Connecting the Dots & Breaking the Silos: Understanding the Links Among Multiple Forms of Violence
Recorded 11/05/2014; 92 minutes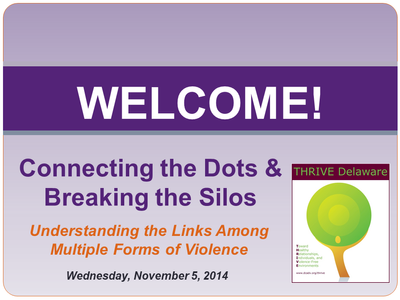 Deborah Prothrow-Stith, MD, Harvard School of Public Health, has stated, "Gang violence is connected to bullying is connected to school violence is connected to intimate partner violence is connected to child abuse is connected to elder abuse is connected. It's all connected." But how? And what does that mean for communities experiencing these types of violence? Or for any of us in advocacy, criminal justice, healthcare, public health, education, social services, child welfare or adult protection, who are responding to the immediate or long-term aftermath of violence or planning for prevention?
During this webinar, we explore the linkages between multiple forms of violence, and identify opportunities to work across issues on joint action that can benefit all.
Presenters:
Natalie Wilkins, PhD and Marci Hertz, MS, co-authors of the new research brief, "Connecting the Dots:  An Overview of the Links Among Multiple Forms of Violence." This research brief was recently published by the CDC and Prevention Institute and is being showcased through a variety of national venues.  Join us for this special opportunity to discuss what these findings may mean for Delaware.
Alyson Lang, Chair, Wilmington Health Planning Council. The mission of the Wilmington Health Planning Council is to improve the health of those who live and work in Wilmington, by health promotion and disease prevention, through individual, organizational and community involvement. The WHPC is dedicated to working to implement the goals and objectives of Healthy People 2020, including violence prevention as a major health target area.
Helpful Links and Resources:
Sign up for our Newsletter