Hurt: Black Female Bodies and Historical Institutionalized Domestic and Sexual Violence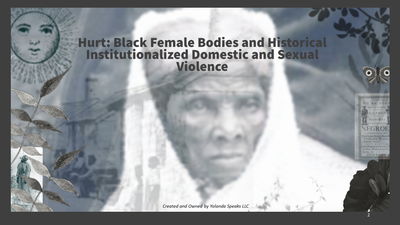 Due to the sensitive nature of the material presented and the level of audience engagement, there is a not a recording available for this webinar.  
"Hurt…." is a historical exploration into the state sanctioned domestic and sexual violence against black female bodies and the staggering present-day consequences of this history for black women. This workshop encourages open candid discussions about the need for a paradigm shift to dually focus on safety and healing for African American victims and on reckoning with/healing past institutionalized racial trauma. "Hurt…." offers a unique experience wherein participants get to examine racial biases related to major negative myths about black women -Jezebel, Mammy, Sapphire-through guided relaxation/contemplation exercises.
Presenter: Yolanda Pourciau, Yolanda Speaks
Yolanda Pourciau is an inspirational speaker, professor, trainer, and social activist. She has over twenty years of experience uplifting, challenging, and educating audiences with her dynamic, down to earth, storytelling style. Her areas of expertise include: Motivation/Inspiration, Diversity/Inclusion and Stress Management/Wellness. The over-arching theme of her work is "We Must Face It, to Fix It! To that end Yolanda is a major proponent of introspective practices such as self-inventory, meditation, contemplation, mindfulness, retreat, extended silence, and yoga. Be prepared to quiet and look within if Yolanda is your guide. As an activist, Yolanda works diligently to increase awareness of and commitment to ending racial, gender, spiritual injustice in our world. Yolanda created the Facebook page: African American Women and Girls and DV and Sexual Violence where she educates the community about the trauma and triumphs of African American women and encourages community support and accountability for black girl's safety wholeness.
Helpful Links and Resources:
This program is funded through the Delaware Criminal Justice Council by the U.S. Department of Health and Human Services, Administration for Children and Families, Family Violence Prevention and Services Program.
Sign up for our Newsletter