Moving Power: Authentically Engaging Youth in the Community to Prevent Sexual and Intimate Partner Violence
Recorded 05/19/2020; 90 minutes

This webinar was presented by PreventConnect, a national project of the California Coalition Against Sexual Assault (CALCASA), and featured speakers from DCADV and CHILD, Inc.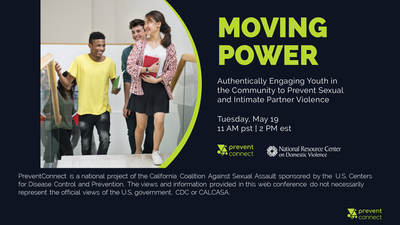 Engaging youth in violence prevention efforts is essential to creating change in our communities and culture. Many organizations are exploring creative approaches to engage youth outside of and beyond classroom settings. Join PreventConnect and the National Resource Center on Domestic Violence to learn how state coalitions and their community partners move power, not information, to youth and provide leadership opportunities to prevent sexual and intimate partner violence. Guests will discuss how they involve youth from historically marginalized and disadvantaged communities in civic engagement, build trusting relationships with youth for development and program leadership, and create space for youth to lead prevention and social justice efforts by being effective, authentic, and accountable adult allies.
Hosts/Facilitators: Ashleigh Klein-Jimenez & Tori VandeLinde, PreventConnect and CALCASA
Co-Hosts/Co-Facilitators: Arlene Vassell & Casey Keene, National Resource Center on Domestic Violence
Guests:
Courtney Winkler, Delaware Coalition Against Domestic Violence
Colleen Yeakle, Indiana Coalition Against Domestic Violence
Latasha Shorter, Child, Inc.
Michele Ostafy, Child, Inc.
Donna Johnson, Child, Inc.
Shatoyia Moss, Community & Family Resources Department, City of Bloomington
Stephanie Solomon, Youth Services Bureau of Monroe County
Sign up for our Newsletter