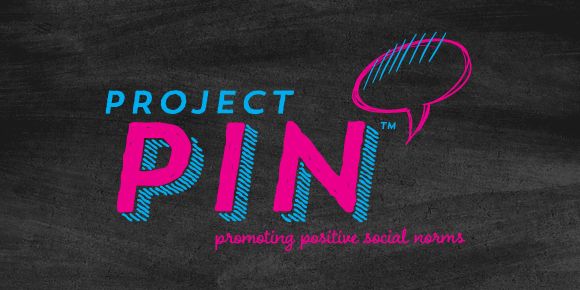 Domestic Violence Prevention Program for Teens
With content developed specifically for teens and young adults, Project PIN is a proactive program that communicates the truth about peer norms. It reveals what the majority of people actually think and do, all on the basis of credible data drawn from the community itself. The program strategy is based on social science research about what works to change actions and attitudes for the better.
What is the social norms theory?
Project PIN is a powerful strategy based on the social norms theory, which explores how our behaviors are influenced by our perceptions of what others think and do. However, these opinions are often inaccurate, and if we can correct the misperceptions that exist, over the course of time behavior should reflect the more accurate (and healthier) norms.

The Three Steps of Project PIN
Project PIN helps "pin" down healthy community values through a three-phase workshop involving interactive video vignettes, data based on your actual audience and outreach based on positive messaging.
Step 1: Performing

Entertaining, interactive video skits, when attendees reveal their community's social norms surrounding domestic violence through electronic clickers. This data is collected for use in messages that are relevant to your audience.

Step 2: Informing

A follow-up session with community influencers, participants and others who are coordinating the learning effort to share the data gathered and form an outreach plan.

Step 3: Norming

Execution of an outreach plan featuring the actual, positive messages gathered from your audience. Because it's deeply relevant, this outreach successfully fosters the adoption of healthy community norms that reject sexual harassment and domestic violence.
---
You can now implement Project PIN in your school or community!
Our domestic violence prevention program for middle school and high school age teens is adaptable to a wide range of audience sizes. Perfect for school assemblies, after-school programs, or youth organizations.
Sign up to receive the complete Program Guide for FREE!