Centering the Role of Doulas in the fight to save Black Mothers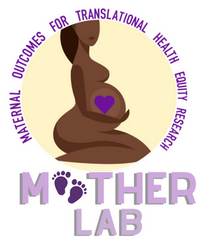 Eimaan Anwar, Keri Carvalho, Anna Kheyfets, Ndidiamaka Amutah-Onukagha
M.O.T.H.E.R Lab at Tufts University
In the United States, Black women are 3-4 more times likely to experience pregnancy-related deaths and maternal health complications than white women (Tucker, Berg, Callaghan & Hsia, 2007). Even Serena Williams, a renowned tennis star, experienced a life-threatening pulmonary embolism and her concerns were ignored and dismissed by the hospital staff. Serena Williams was fortunate enough to have her concerns and needs addressed just in time, but the dismissal and denial of care of women of color in the medical field is not uncommon and in large part due to systematic and institutional racism. Twenty-two percent of Black women have experienced a form of discrimination when visting a doctor or going to a clinic (Discrimination in America: experiences and view of American women, 2017).
An astounding 42.4 deaths per 100,00 live births for Black non-Hispanic women were recorded in comparison to 13 per 100,000 live births in non-Hispanic white women between 2011-2016 (Oribhabor, Nelson, Buchanan-Peart & Cancarevic, 2020). Moreover, 63% of pregnancy-related deaths were determined to be preventable in non-Hispanic Black women (Centers for Disease Control and Prevention, 2019). Policies must be implemented to increase access for insurance coverage to provide Black mothers with the care and support they need during childbirth. Black women deserve quality health care services that are provided in a space where they feel safe and respected.
Increasing access to doulas by expanding Medicaid coverage of their services could address these racial disparities. Doulas are trained non-clinical professionals that can help women receive physical, mental and emotional support and act as a consistent presence throughout their pregnancy to provide advocacy in the delivery room by facilitating conversations between mothers and medical staff (Wint, Elias, Mendez, Mendez & Gary-Webb, 2019).            
The most widespread framework for doula care has been the fee-for-service model (Lantz, Low, Varkey & Watson, 2005). In 1999, the Doulas Care program was used in Ann Arbor, Michigan to reduce and eliminate the health disparities in emotional and social support that can add to detrimental birth outcomes throughout pregnancy and during labor (Kane Low, Moffat & Brennan, 2006). Doulas are underutilized but research suggests the potential benefits of doulas include shorter labors, increased breastfeeding initiation and retention rates and lower rates of caesarean sections (Wint, Elias, Mendez, Mendez & Gary-Webb, 2019).
Given the impact of COVID-19, doula care is now being provided through the various platforms such as Zoom, Skype and Google Hangouts to provide their utmost support to women. For instance, women may now do prenatals and postpartums remotely (Doulas and COVID-19: A Toolkit for Doulas, 2021). The pandemic has only exemplified the necessity of doulas to provide empathy and greater mental and emotional assistance to women during the current unprecedented times. Literature has shown that the compassion and support system that doulas provide is associated with overall greater maternal satisfaction in labor, birth and postpartum (Gruber, Cupito & Dobson, 2013).
Increased accessibility to doula care would be a step in the right direction for Black women to receive guidance and greater advocacy in the delivery room.  Proposing and passing legislation that makes doula care readily available would empower Black women and improve maternal health outcomes. The greatest barrier to utilizing doula services is the cost is frequently not covered by most insurance (Strauss, Giessler & McAllister, 2015). Hence, policies that increase accessibility through insurance and providing doula training and certification classes in the most affected communities would improve maternal health outcomes for Black women.
In order to raise awareness of the importance of doulas and the immense benefits they provide in reducing reproductive health disparities in the United States, the Maternal Outcomes for Translational Health Equity Research (M.O.T.H.E.R) Lab under Dr. Ndidiamaka Amutah-Onukagha has organized the fourth annual Black Maternal Health Conference on April 9, 2021 centered on Doula Care. A full list of speakers and their biographies can be found here: https://sites.tufts.edu/bmh2020/speakers/.
Register for the event here: https://sites.tufts.edu/bmh2020/
References
Centers for Disease Control and Prevention. (2019). Pregnancy-Related Deaths: Data from 14 U.S. Maternal Mortality Review Committees, 2008-2017 [Ebook] (p. 3). Retrieved from https://www.cdc.gov/reproductivehealth/maternal-mortality/erase-mm/MMR-Data-Brief_2019-h.pdf
DONA International. (2021). Doulas and COVID-19: A toolkit for doulas [Ebook] (p. 4). Retrieved from https://www.dona.org/wp-content/uploads/2020/03/Doulas-and-COVID-19.pdf
Gruber, K., Cupito, S., & Dobson, C. (2013). Impact of Doulas on Healthy Birth Outcomes. The Journal Of Perinatal Education, 22(1), 49-58. doi: 10.1891/1058-1243.22.1.49
Kane Low, L., Moffat, A., & Brennan, P. (2006). Doulas as Community Health Workers: Lessons Learned from a Volunteer Program. Journal Of Perinatal Education, 15(3), 25-33. doi: 10.1624/105812406x118995
Lantz, P., Low, L., Varkey, S., & Watson, R. (2005). Doulas as childbirth paraprofessionals: Results from a national survey. Women's Health Issues, 15(3), 109-116. doi: 10.1016/j.whi.2005.01.002
Oribhabor, G., Nelson, M., Buchanan-Peart, K., & Cancarevic, I. (2020). A Mother's Cry: A Race to Eliminate the Influence of Racial Disparities on Maternal Morbidity and Mortality Rates Among Black Women in America. Cureus. doi: 10.7759/cureus.9207
Robert Wood Johnson Foundation. (2017). Discrimination in America: experiences and view of American women [Ebook]. New Jersey. Retrieved from https://legacy.npr.org/assets/news/2017/12/discriminationpoll-women.pdf
Strauss, N., Giessler, K., & McAllister, E. (2015). How Doula Care Can Advance the Goals of the Affordable Care Act: A Snapshot From New York City. The Journal Of Perinatal Education, 24(1), 8-15. doi: 10.1891/1058-1243.24.1.8
Tucker, M., Berg, C., Callaghan, W., & Hsia, J. (2007). The Black–White Disparity in Pregnancy-Related Mortality From 5 Conditions: Differences in Prevalence and Case-Fatality Rates. American Journal Of Public Health, 97(2), 247-251. doi: 10.2105/ajph.2005.072975
Wint, K., Elias, T., Mendez, G., Mendez, D., & Gary-Webb, T. (2019). Experiences of Community Doulas Working with Low-Income, African American Mothers. Health Equity, 3(1), 109-116. doi: 10.1089/heq.2018.0045