The State of Delaware Child Death Review Commission's 2017 Annual Report identified domestic violence, lack of referral for DV, and lack of DV screening as major contributing factors to maternal deaths.  Additionally, the Delaware Fetal and Infant Mortality Review for FY 2007-2012 shows one of the resulting recommendations is 'consistent and ongoing domestic violence screening.'
Studies indicate that only 5-10% of primary care settings and 17% of ob/gyns regularly ask about intimate partner violence. One study revealed that less than 25% of women receiving medical services for any reason were asked about physical, sexual and emotional violence by Emergency Department staff. Emergency Departments are significantly more likely to screen for domestic violence when injuries or obvious signs are present, however, with rates jumping to closer to 80%.
For many victims of domestic violence the first source of help will not be law enforcement, but rather their medical provider. Below are some quick tips for health care providers to promote safe and healthy relationships with all patients, as well as to connect patients experiencing domestic violence to a community-based resource.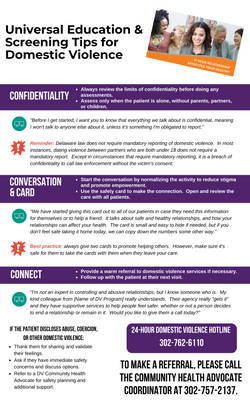 DCADV offers resources to support health care providers in recognizing and responding to domestic violence:
Training and Technical Assistance
Resource Materials
    Best practice wallet/badge cards for providers
    DV resource card for patients
    Evidence-Based screening tools with local resource numbers
    Posters
If you need resources, please send an email to dcadvadmin@dcadv.org.
Sign up for our Newsletter