Coping with Compassion Fatigue: An Ecological Approach
Recorded 08/09/22; 83 minutes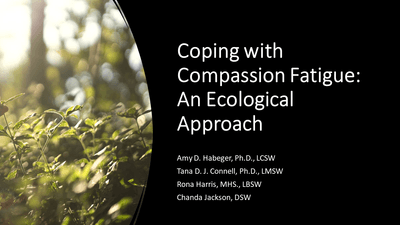 Compassion fatigue or secondary traumatic stress (STS) disorder is the negative psychological, emotional, and physical consequences of working with traumatized individuals. Often, frontline workers such as human service workers, emergency workers, and educators experience symptoms such as fatigue, irritability, anxiety, and dissociation as a result of repeated exposure to client's traumatic or stressful experiences. To maintain a healthy sense of self, frontline workers must understand how to effectively cope with traumatic stress on a personal and professional level. This workshop is designed to describe strategies to prevent, identify and address STS on a personal, interpersonal and organizational and community level.
Presenters
Dr. Amy Habeger is a researcher and a mental health practitioner. She is a licensed clinical social worker and an Associate Professor of Social Work at Delaware State University. Dr. Habeger has published and presented nationally and internationally on workforce development models and interprofessional care.
Dr. Tana Connell is an Assistant Professor of Social Work at Delaware State University. Her research interests include organizational trauma, and child abuse and substance abuse prevention. She is passionate about improving policies and practices that adversely impact underrepresented populations.
Rona Harris is masters prepared in Human Services with a Marriage and Family Therapy emphasis; she has completed ABD of her doctoral degree with Capella University in human services. She is experienced in the areas of trauma, addiction, mental illness, and criminal addictive behaviors.
Dr. Chanda Jackson is the Projects Director for the Family Services Cabinet Council at DHSS. Her research interests include the social determinants of health and community revitalization. In addition, she is passionate about the community and is experienced in connecting people to resources.
By the end of this webinar, participants will:
Describe strategies to prevent, identify, and address secondary traumatic stress in the workplace
Increase participants understanding of ecological approaches to addressing traumatic stress
Apply an ecological framework to reduce frontline workforce burnout.
Create a plan for implementing a burnout prevention program an agency workplace.
Helpful Links and Resources
This program is funded through the Delaware Criminal Justice Council by the U.S. Department of Health and Human Services, Administration for Children and Families, Family Violence Prevention and Services Program.
Sign up for our Newsletter