Garments for One Another: Islamic Perspectives on Gender, Marriage and Domestic Violence and the Muslim-American Perspective
Recorded 05/11/2021; 87 minutes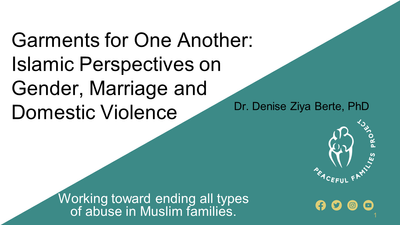 There is a profound lack of information and misunderstanding related to the Islamic teachings about Gender, Marriage and Domestic Violence and its effect on both national and global Muslim communities. This workshop will provide information about: the Islamic perspective on gender, marriage and family violence, an introduction to the diverse Muslim communities in the United States, an understanding of the unique aspects of Domestic Violence in Muslim communities including both obstacles to reporting and helpseeking, needs when providing interventions to Muslim families and the special supports available to individual's practicing Islam against family violence.
Presenter: Dr. Denise Ziya Berte, Peaceful Families Project
Dr. Denise Ziya Berte is a US trained licensed Clinical Psychologist with over 30 years of experience working with international victims of violence including torture, war, trafficking and domestic violence. Dr. Berte has served as the Executive Director of the Liberty Center of Survivors of Torture, The Vice President of Human Services of the Latin American Community Center and a professor of Clinical Psychology at the An Najah University. Dr. Berte is the author of over 17 articles and three book chapters related to trauma and multicultural psychology. Dr. Berte is a practicing Muslim and is the current Executive Director of the Peaceful Families Project a national non-profit which address the issue of Domestic Violence prevention in diverse Muslim communities using an Islamic perspective.
Learning Objectives:
By the end of this webinar, participants will be able to:
Describe the Islamic perspective on Gender, Marriage and Domestic Violence
Recognize the diversity and range of the Muslim Community in the US
Become familiar with the obstacles to help seeking, unique needs in service provision, and supports available for Muslim DV survivors
Helpful Links and Resources:
This program is funded through the Delaware Criminal Justice Council by the U.S. Department of Health and Human Services, Administration for Children and Families, Family Violence Prevention and Services Program.
Sign up for our Newsletter