Power and Oppression: Let's Break It Down
Recorded 06/29/21; 60 minutes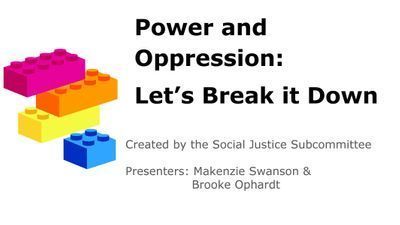 In this introductory webinar, participants will be introduced to an overview and examples of the four levels of oppression, historical oppression, and how forms of oppression are interconnected. Participants will engage through discussions, activities, and videos to explore what oppression means to us, how we experience it today, and how to address oppression in our field. This introductory level workshop is targeted toward professionals who are new to understanding concepts or those who wish to review power and oppression and to increase their understanding of these issues.
Presenters
Brooke Ophardt (she/her/hers) is the Training & Prevention Specialist for the Delaware Coalition Against Domestic Violence. She has been working for the Coalition since February of 2019. Her previous work includes providing administrative and outreach support for Planned Parenthood of Central and Western New York. Her observations surrounding the intersection of race, class, and reproductive justice titled, "Body Autonomy During Pregnancy: Where Did It Go?" has been published in the peer-reviewed feminist journal, Dissenting Voices.  Currently, she is working a prevention initiative focused on engaging men and boys in domestic violence prevention through the evidence-based program Coaching Boys Into Men.  Brooke also provides support to DCADV's economic justice/economic empowerment efforts.  She has a Bachelor's degree in Women and Gender Studies from The College at Brockport, State University of New York, and a Master's of Public Administration with a concentration in Gender-Based Violence from the University of Colorado Denver.
Makenzie Swanson is the DELTA Project Coordinator at Turning Point at People's Place. As the coordinator, she implements evidence-based strategies focusing on the primary prevention of intimate partner violence among youth in Delaware. Makenzie began studying Behavioral Neuroscience and Spanish in Michigan before moving to Delaware and completing her undergraduate degree in Behavioral Science with a certificate in Conflict Resolution. Makenzie is a certified Community Health Worker and currently pursuing her Master's degree in Social Work at Boise State University. She serves as a co-chair of the Social Justice Subcommittee.
By the end of this webinar, participants will be able to:
Define the concepts of "power" and "oppression"
Describe the four forms of oppression
Identify strategies for identifying and combatting oppression in their field
Helpful Links and Resources
This graphic is part of a large-group activity within the webinar.
This program is funded through the Delaware Criminal Justice Council by the U.S. Department of Health and Human Services, Administration for Children and Families, Family Violence Prevention and Services Program.
Sign up for our Newsletter