Preventing Substance-Impaired Driving through the Lens of Child Endangerment and IPV
Recorded 04/12/2021; 91 minutes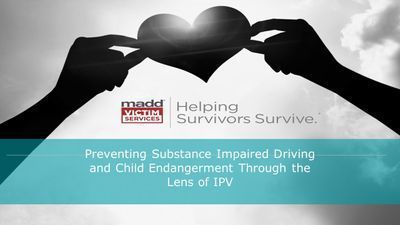 This workshop will provide details on how abusers may use impaired driving as a way to control victims and their children. As a result of this workshop, participants will gain knowledge and understand the prevalence and dangers around drunk driving and child endangerment. In addition, we'll briefly review MADD's mission and history; describe impaired driving statistics; review Delaware DUI statutes and laws; discuss the complex realities for IPV Victims; explore MADD's role in prevention and assistance and best practices for practitioners.
Presenter: Robin Stimson, Manager of Victim Services, Mothers Against Drunk Driving
Robin M. Stimson, LMSW, is the Manager of Victim Services for Mothers Against Drunk Driving (MADD), Mid-Atlantic. There, she aids individuals who have been injured, or lost a loved one due to impaired driving. Robin received her Master's in Social Work from the University of Maryland, Baltimore in 2016. Before joining MADD in 2018, Robin worked with victims and families impacted by Intimate Partner Violence. She cultivated many resources for families, including a series of trauma workshops, virtual support groups, and shareable videos, for those suffering from trauma and grief in mind. Her social work experience has been key in the ability to advocate for, educate and prepare victims for, everything from the criminal justice system, to loss and renewal. In 2019, she was selected as one of nine MADD victim specialists in the Country to serve on the MADD National Victim Services Advisory Board.
Learning Objectives:
By the end of this webinar, participants will be able to:
Recognize the prevalence and dangers around Drunk Driving and Child Endangerment
Summarize Delaware DUI statutes and laws
Identify two best practices in working with IPV victims/survivors affected by drunk driving and child endangerment
Helpful Links and Resources:
This program is funded through the Delaware Criminal Justice Council by the U.S. Department of Health and Human Services, Administration for Children and Families, Family Violence Prevention and Services Program.
Sign up for our Newsletter