Taking an Intersectional Approach to Domestic Violence Work
Recorded 08/30/22; 77 minutes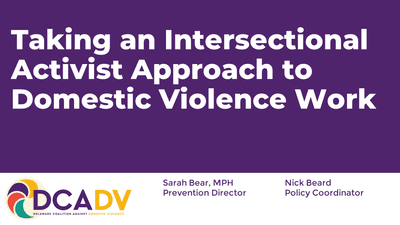 The cultural landscape within the United States has changed greatly in the last few years and it is essential that prevention advocates and practitioners are able to evolve with it. Many community groups and organizations are doing essential work which relates to prevention: whether advocating for reproductive rights, improving labor conditions, or working for racial equity. Prevention advocates and practitioners must be able to reach out to these potential partners and work together to create a world free of domestic violence.  
Presenters
Dr. Nick Beard (she/her) is an attorney at law in New York and Maryland.  She completed a PhD in Law and Gender Studies, focusing on the experience of women who experience sexual violence in the asylum system and previously worked for Planned Parenthood of Northern, Central and Southern New Jersey, Common Cause Delaware and the Lawyers' Committee for Civil Rights Under the Law.  In her free time, Nick volunteers for the UD Sexual Offences Services, the New York Abortion Access Fund, All Options talkline and the Delaware Democrats Voter Protection Programme.  She lives in Hockessin with her Irish husband and son and English cat. 
Sarah Bear, MPH (she/her) is the Prevention Director for the Delaware Coalition Against Domestic Violence. She is responsible for supporting all things prevention at the Coalition and always jumps at a chance to bring prevention into the conversation. With nearly a decade of experience, Sarah has held numerous positions in both intervention and prevention capacities, and has spoken at multiple national conferences, including the National Sexual Assault Conference (2017, 2018, and 2019) and the National Sex Ed Conference (2017 and 2019). She received her Master of Public Health from George Washington University and a Bachelor of the Arts from Albright College in Women & Gender Studies and Digital Media. In her spare time, she enjoys lounging with her two black cats while playing video games or reading a book.
By the end of this webinar, participants will:
Identify three community activist groups/local organizations whose work aligns with prevention of domestic violence
Explain how reproductive justice groups, LGBT groups, and racial justice groups intersect with domestic violence prevention work
Propose two strategies for engaging community activists as domestic violence prevention partners
Helpful Links and Resources
Please note that CEUs are only available for those who attended the live webinar.  Certificates of completion will be available to those who watch the recording in its entirety.
This program is funded through the Delaware Criminal Justice Council by the U.S. Department of Health and Human Services, Administration for Children and Families, Family Violence Prevention and Services Program.