Title IX Proposed Regulations: What you need to know to submit comment
Recorded 01/18/2019; 50 minutes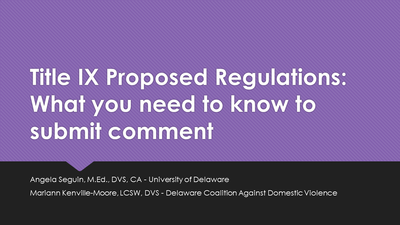 Title IX of the Education Amendments of 1972 protects every student's right to educational opportunities and benefits free from sex discrimination, including sexual assault and sexual harassment. The U.S. Department of Education is proposing new regulations for schools that will have significant implications for the civil rights of all students, especially students affected by gender-based violence and harassment.  This webinar provides an overview of the proposed changes to Title IX, potential implications of these changes, and how individuals and agencies can provide advocacy through the "notice and comment" period. 
Presenters:
Angela Seguin, M.Ed., DVS, CA - University of Delaware
Mariann Kenville-Moore, LCSW, DVS - Delaware Coalition Against Domestic Violence
By the end of this webinar, participants will be able to:
Describe the purposes of Title IX.
Submit public comment to the appropriate agencies regarding the changes to Title IX.
Helpful Links and Resources:
Sign up for our Newsletter