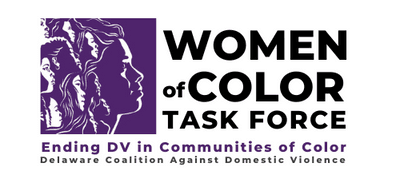 The Women of Color Task Force (WOCTF), a committee of DCADV, was established in 1999. Members meet monthly to discuss and develop strategies regarding the outreach and delivery of domestic violence services to communities of color. WOCTF strives to increase public awareness of domestic violence through support, education, and training.
Membership
The task force defines women of color as "women who have claimed the power to name and define themselves and their experiences through their culture and diversity." Membership is open to all women who self-identify as women of color. Women who are interested in issues of violence against women as well as survivors of domestic violence are welcome to join.
Statement of Purpose and Goals
The task force recognizes the isolation, frustration, anger and lack of representation and invisibility felt by women of color in the domestic violence movement and pledges to work toward the following goals:
To educate through training, prevention, and the availability of resources.
To advocate by removing barriers and connecting with national organizations.
To empower through education.
To network through outreach and making contacts with others who share our experience, philosophy, and goals.
To be proactive by identifying opportunities for collaborative efforts.
Activities
WOCTF provides onsite domestic violence training for religious groups and communities of color.
WOCTF also hosts presentations and trainings on domestic violence for other groups wanting to increase their cultural competence.