Community Health Worker Collaborative Project
The Domestic Violence-Community Health Worker Collaborative Project (DV-CHW) addresses the need for accessible services by partnering with healthcare providers to enhance screening of domestic violence and by connecting victims of domestic violence with trained community-based advocates who can offer safety and health support.  This project leverages the strengths and skills of our healthcare and community partners to address the intersection of domestic violence and health by providing advocacy and health services to victims of domestic violence.
The project is collaborative, integrating domestic violence services with healthcare services.  The DV-CHW project not only serves victims and survivors of domestic violence, but dually builds the capacity of health partners through training and professional development.
Once domestic violence is identified, connection to supportive resources is critical.  The DV-CHW service model creates a process for a warm hand-off from the health professional to the DV-CHW, who will then provide community-based assistance that is easily accessed by the victim in a safe setting, offering help, discussing risks and developing a safety plan, getting connected to healthcare and supportive services that will foster safety for themselves and their children.  The service is victim-centered and is tailored to the goals and needs the victim/patient identifies.
The Domestic Violence – Community Health Worker Collaborative Project's overarching goal is the creation of an innovative, sustainable service delivery model that integrates domestic violence services and health services in order to comprehensively address health disparities and improve patient outcomes.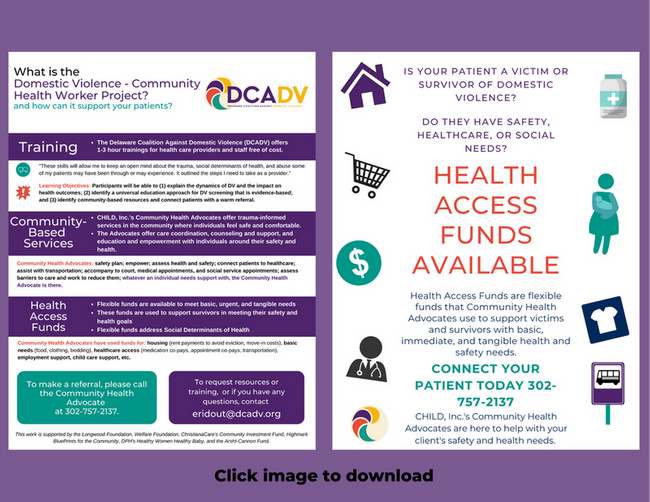 As part of the overall evaluation plan for the DV-CHW project, the Center for the Study & Prevention of Gender-Based Violence at the University of Delaware completed a formal evaluation in April 2021, comprised of quantitative and qualitative data. The report of this evaluation includes participant characteristics, the nature of services provided, key impacts, and next steps. If you're interested in receiving a copy of this report, please contact Erin Ridout at eridout@dcadv.org.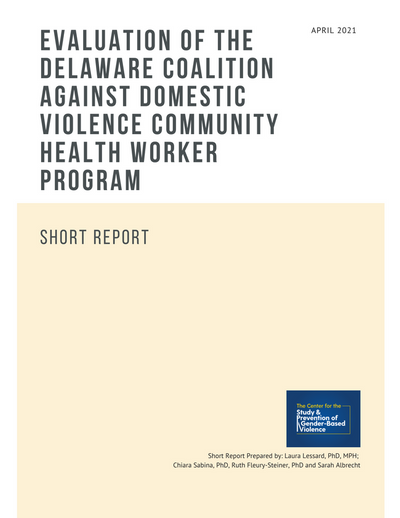 Sign up for our Newsletter