DCADV is committed to sharing important information with victims and the community at large and engaging and partnering with individuals and organizations to help achieve our mission to end domestic violence in Delaware.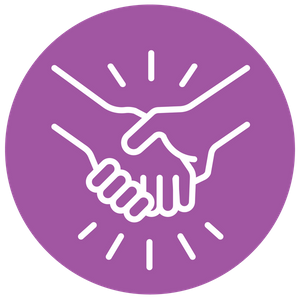 Awareness
Public education is a cornerstone of DCADV's mission and advocacy. DCADV believes that it is imperative to increase public awareness about the terrible cost of domestic violence in our country, where it's estimated that one in four women will be victimized in her lifetime.
DCADV engages in public education initiatives that are aimed at raising awareness in the community and providing information regarding the services and resources available to victims needing help.
Ongoing awareness efforts include events, outreach to media, special exhibits, presentations and trainings, resource tables, and the creation and dissemination of print and electronic materials to alert the public about the widespread incidence of domestic violence and violence against women both nationally and in Delaware.  We also provide valuable resources and information that connect victims with the resources and services provided by our member and partner direct service programs.
As part of our mission and outreach efforts, DCADV also supports both the Women of Color Task Force (WOCTF) and WEAVER (Women Empowered Against Abuse in Every Relationship, a survivors' task force) to help ensure that our work reflects both the diverse communities we serve and the victims we seek to empower. The WOCTF has dedicated many hours to providing training on domestic violence for faith communities in Delaware and helps inform our work in communities of color. WEAVER represents a vital voice for victims and survivors, helps raise awareness in the community with a specific focus on victims, and informs both the community and service providers about the needs of domestic violence victims.
Each October during Domestic Violence Awareness Month, DCADV, along with its member organizations and government and corporate partners, engages in public education activities intended to raise public awareness and commitment with regard to addressing domestic violence in our society.
Collaboration
DCADV has a long history of working collaboratively at local, regional, and national levels on efforts to improve Delaware's system response to victims and abusers. DCADV staff serve on dozens of committees to ensure that the safety and empowerment of victims is paramount, and that offenders are held accountable. Recent and current examples are listed below.
DCADV staff:
support and participate in a number of committees, events, and initiatives hosted by partners, including the Victims' Rights Task Force, Domestic Violence Task Force, Domestic Violence Coordinating Council, Sexual Assault Network of Delaware, ChristianaCare, University of Delaware, NAMI Delaware, Criminal Justice Council, and Department of Health and Social Services
work with the Division of Public Health to deepen collaborative efforts around prevention and other issues such as maternal/child health
worked with a multidisciplinary data workgroup led by the University of Delaware's Center for Alcohol and Drug Studies on the 2010 Delaware School Survey related to dating violence
work with 10 other State Coalitions as part of the CDC-funded DELTA national collaborative; As part of the national DELTA Prep program, DCADV served as a mentor to other funded Coalitions in the mid-Atlantic region pursuing prevention initiatives
serve on the Trauma Matters Delaware Steering Group
serve on the Victim Services Subcommittee of the Human Trafficking Interagency Coordinating Council
serve as core faculty for the Delaware Victim Assistance Academy, training new victim advocates on best practices for service provision